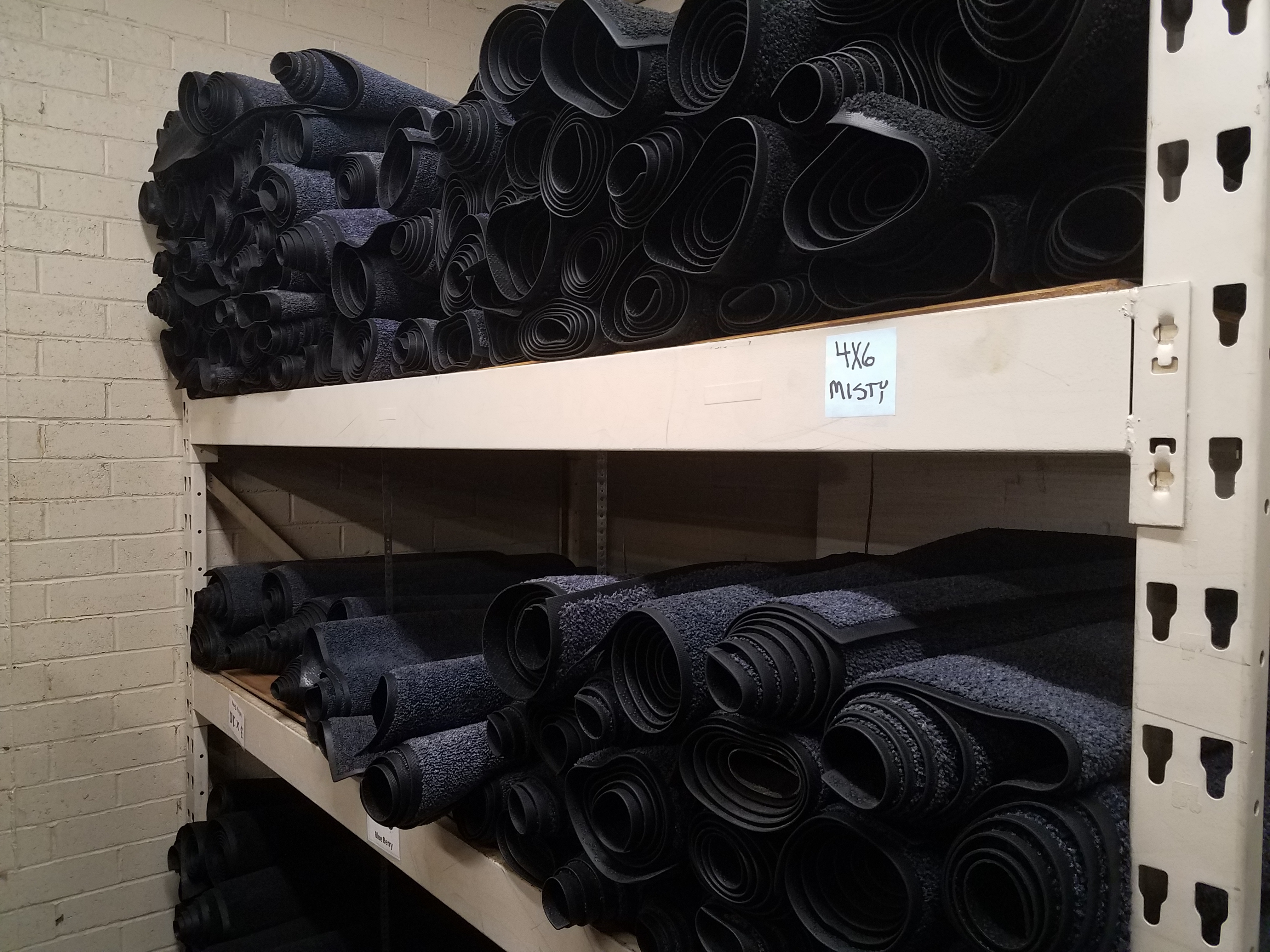 Every business can use a mat, but what KIND of mat service and mat suits your company the best? There are tons of varieties of mats available in the marketplace and knowing which one is right for you can make the difference between a safe warehouse and a dangerous one. Using the correct commercial mats can give your company a layer of protection for your facility's floors but also in helping increase productivity and increase efficiency on the work floor. Different Types of Commercial Mats Planning your floor mats begins with knowing which options you have and understanding what each type of mat does and ultimately how it can help with your facility's specific needs. Here are the types of floor mats you can find from our floor mat rental service and how they work: Logo and Specialty Message Mats Logo mats are standard or scraper mats that have been improved with the addition of graphics. The most common choice for these specialized mats is, of course, having the brand logo printed on the surface. This adds personality to an otherwise bland and overlooked tool, and it's a surefire way to let your customers know that they have arrived at your facility. In addition to these brand marketing powerhouses, logo mats are also often printed with slogans and even seasonal messages. Either way, they are a great and powerful way to welcome your customers to your space and hence are best suited for lobbies and entryways. Does your business need logo or specialty message mats? Definitely. Anti-Fatigue Mats Anti-fatigue mats are, as the name implies, specially designed to relieve fatigue for the lower extremities and made for workers who work on their feet for extended periods of time. The value of these special floor mats lies in their material. They are not simply soft and comfortable to stand on. Unlike regular floor mats, the materials of anti-fatigue mats are so designed to cause the feet to make unconscious, effortless micro-movements while standing. These micro-movements help shift the weight around the different areas of the feet and the legs so the fatigue is not concentrated on just one area. Also, these micro-movements promote better blood circulation in the feet, legs and thighs, as well as the lower back so workers are not as tired at the end of their shift. Does your business need anti-fatigue mats? Certainly – if your business has areas where workers are required to stand on their feet for long periods (i.e. commercial kitchens, food preparation areas, factories, lobbies and reception areas, factories, and other similar facilities). Comfort Flow Mats Comfort flow mats are an upgraded version of regular anti-fatigue mats. Apart from the added support and comfort, these specialized mats are also designed to allow liquids to pass through them instead of retaining moisture under the surface, which creates slip hazards. Most comfort flow mats available on the market also feature anti-bacterial properties to help prevent the buildup of molds and bacteria despite the constant exposure to liquids. These are the best types of commercial mats for wet-area facilities like certain warehouses, repair shops, and kitchens. Does your business need comfort flow mats? Absolutely, if you have areas that are constantly wet. Making the Right Floor Mat Choice Commercial mats are no cheap investment. In making your purchase, here are some of the most important qualities to look out for: NFSI Certification. The National Floor Safety Institute badge indicates that the mats that you have are up to par with safety standards regarding slip, trip, and fall accidents. Quality Materials. The durability of your mats, and the efficacy of special mats like comfort flow and anti-fatigue types, depend greatly on the materials. Rent commercial mats that are made of materials like high–density nitrile rubber for superior durability. Design. Check for the edges and overall construction of your mats, because they affect the overall safety and effectiveness of the mats on the floor. Size. On top of the material and design, the size of mats helps define how effectively mats work to protect your floors or provide feet support. Maintenance. Some mats are easier to maintain than others. Some need to be cleaned more frequently, while others require specialized cleaning methods and machines to get the best possible results. It is for this reason that mat rental services prove to be the better and more convenient option because they relieve you of the burden of cleaning and maintenance.
Mat Rental Service
The right mat service company will provide you with essential cleaning and maintenance support. The right company will come into your facility to clean and replace mats in a timely manner – which ultimately means that you'll never have to worry about mats that curl, are dirty, or are way past their prime. Dare to Compare the best
Mat Service
! We have a full range of floor mats that suit the needs of different businesses in a variety of industries. We also have an excellent reputation for mat maintenance services. Get the floor mat experience that will work for and with your business.