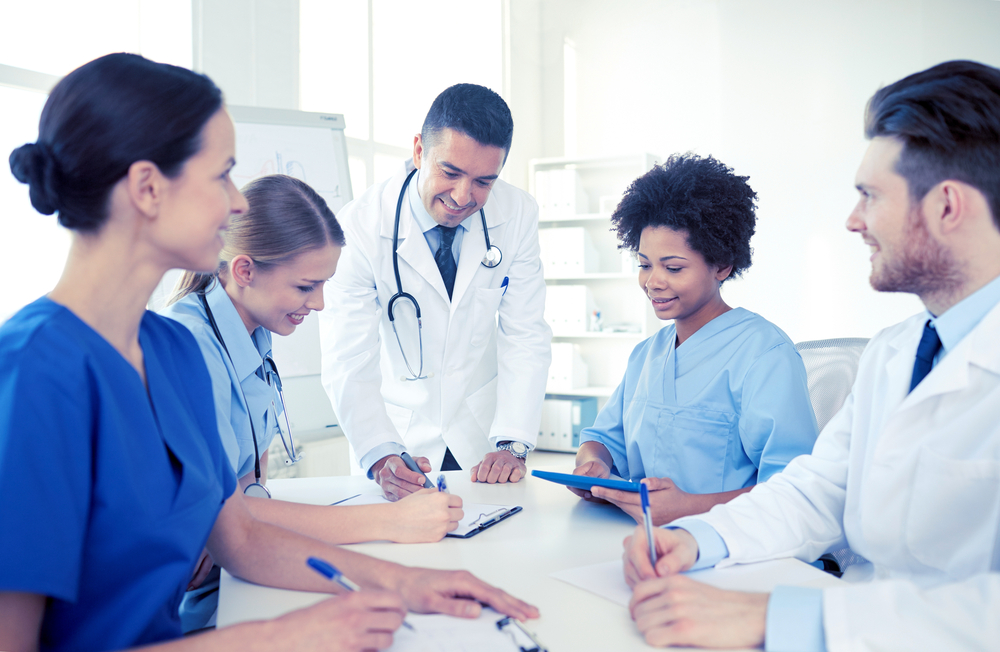 If your hospital, clinic, or doctor's office is looking for medical linens, gowns, mops, or mat rental services, consider Tipton Linen. We've been serving the medical industry with high-quality medical supplies for over 70 years.
As a result, we know exactly what it takes to keep a medical facility running smoothly. This guide to Tipton's medical services covers just some of what we can offer your hospital, clinic, or doctor's office. 
Bed Linens
Without completely clean, high-quality bed linens to supply your patients, many things could go wrong. From contamination issues to uncomfortable patients, a significant amount of recovery success relies on those linens. Tipton not only supplies high-quality medical bed linens, but also knows how to take care of them. 
Medical Sheets
Medical sheets need to be comfortable and completely clean. With the health and safety of patients on the line, there's no room for error. Tipton Linen knows what's at stake and does everything it can to ensure that those requirements are met. With a high thread count and professional processes that ensure the absence of pathogens, Tipton Linen's medical sheets are ready for anything. 
Medical Pillowcases
Just as important in terms of comfort and cleanliness are the pillowcases your patients will sleep on. With medical pillowcases of the quality and cleanliness that Tipton Linen provides, any pillow will be clean and comfortable.  
Cleaning Equipment 
Cleanliness is an absolute must in any medical facility. Not only for the safety of patients, but for their comfort and overall health. The last thing any patient needs is a slip and fall accident. Yet, without equipping your janitorial staff with the right dust and wet mops, there's no guarantee slip and falls won't happen. Tipton's medical services offer premium dust mops, wet mops, and cleaning cloths to guard against that possibility. 
Dust Mops
Dust can be very problematic in the medical setting, and not just for the lack of cleanliness its presence suggests. Between the allergens and
pathogens in dust
, a dusty doctor's office can cause more harm than good.
If the proper cleaning procedures and equipment aren't being used, that dust could be reentering the air with every "cleaning." A quality dust mop prevents this by locking every bit of dust into its microfiber surface. Designed to prevent dust aerosolization, dust mops are the best tool for dust management, especially the quality ones from Tipton Linen.  
Wet Mops
The difference a quality wet mop can make in your janitorial staff's cleaning efforts is tremendous. A quality wet mop will do a better job, take less time, and require less effort. With thick, durable, absorbent yarn or microfiber, no mess is too much for Tipton Linen's wet mops. 
Microfiber Mops
For a confident, microbial clean, there's no better option than our microfiber mops. With maneuverability and convenience of use, few other mop options can compete with a thorough
microfibering.
Cleaning Cloths
For surfaces other than the floor, your cleaning crew needs the best options available. Nothing beats high-quality cleaning cloths from Tipton Linen. With a fiber density and comfort of use to rival any luxury cloth, Tipton Linen's cleaning cloths are ready and always clean. 
Patient Gowns
Gowns are a quintessential part of any medical outfit. Patients need to wear something comfortable, but that also allows for a thorough examination whenever necessary. Many gowns leave patients feeling uncomfortable and vulnerable, and that doesn't help with the recovery process. Gowns from Tipton Linen take patient comfort and dignity into consideration. 
Mats 
When the mats for your medical practice are as high-quality and well taken care of as mats from Tipton Linen, your practice is safe. We have the variety of mats needed for every purpose in your hospital or medical facility. With us, your floors will not only be protected, but secured for your patients and staff. 
Urinal Mats
Urinal mats keep bathrooms safe, comfortable, and smelling great. When replaced or cleaned regularly, mats in a bathroom soak up urine that hits the floor. This is beneficial for not only the patient or employee that walks through the bathroom, but for the smell. Without a food source (urine) bacteria that lie in grouting and drains can't feed and increase in colony size. If they can't feed, they can't produce the foul-smelling odors we commonly associate with poorly-maintained bathrooms. 
Complete Comfort Mats
Hospital employees are always on their feet. Any respite from the aches of their feet, legs, and back would be tremendously appreciated. With Tipton's complete comfort mats, that's exactly what they'll get. Whether standing or just passing over, a complete comfort mat cushions where it counts. 
Comfort Flo
For positions that require standing for extended periods and a potential spill or two, there's no better partner than a comfort flo mat. With rubber backing and a porous, raised surface, your employees can enjoy confident traction and comfort every day. 
Custom Logo 
Have something to say while protecting the people walking by? There's no more elegant or convenient solution than our custom logo mats. Whether you want to advertise your business or warn about a potential danger, our customized logo mats can get it done. With rubber backing and comfortable, absorbent piling, these mats not only look great, but also protect incredibly well. 
Water Hog
Nothing keeps water at bay better than a water hog mat. Designed to absorb and hold a tremendous amount of water, few mats will better protect wet-prone areas than a water hog. Especially at entrances where rainwater can wash in with every footfall, water hog mats are built to be ready. 
Contact Tipton Linen for Reliable, Quality Medical Services
For more information on the products listed here and others we can offer, give us a call at (800) 533-5670. Feel free to contact us through
our online portal
as well!