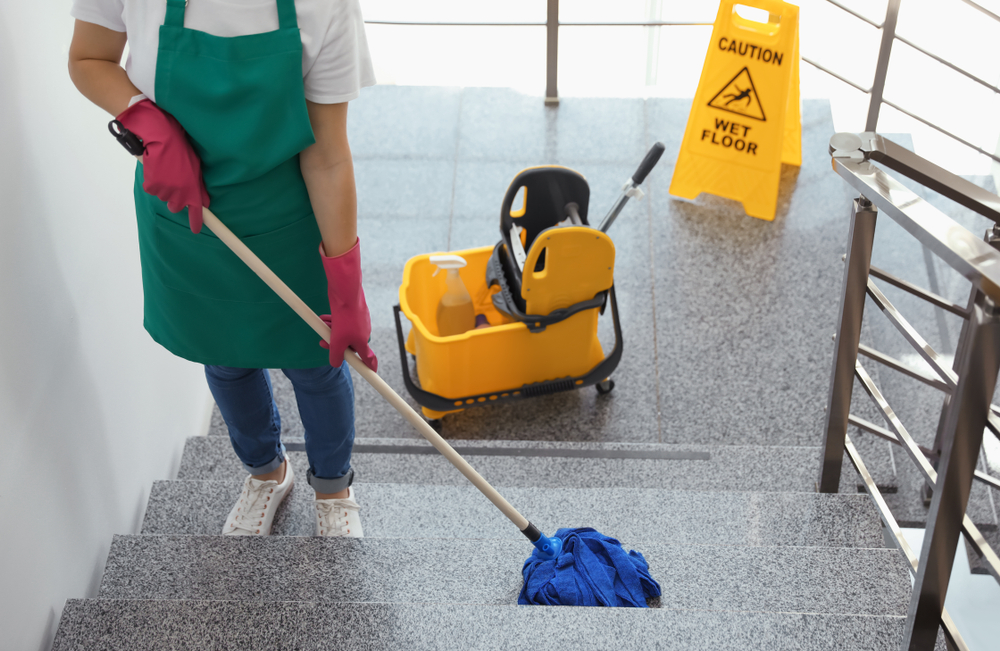 Cleaning your business is just as important as the tools used to do it. For your employees to do a good job quickly, they need the right materials.
Tipton Linen has the materials you need, and the quality to make sure that they last. To keep your floors clean regardless of what business throws at them, you need:
A well-made dust mop knocks loose dust off the ceiling and walls before it has a chance to fall to the floor. This allows your workers to get a jump start on messes before they happen. 
Once on the floor, dust has nowhere to go but out on the dust mop. Specifically designed to pick up small particles off the floor, a dust mop decreases the burden on the wet mop significantly. The difference between wet-mopping a floor previously dust-mopped versus not is striking. An un-dusted floor will: 
Streak black in areas where a lot of dust is present.

Discolor the mop water in a single re-soak.

Clump and resist the mop in particularly bad areas.
Cleaning a dust mop is also easy to do. Just take the mop outside, shake out the loosely held material, then vacuum everything else.
Dust mops come in a variety of sizes to best suit your business's needs. Whether you have a small office or a large warehouse, Tipton has the dust mop for you. We have 18", 24", 36", 42",48", and 60" mops, to choose from. 
Wet mops are what someone thinks of when they think of mops. They handle the dirty business end of things, and are the final blow to a messy floor. Be it a spill, rain water, or salt residue, a wet mop will get the job done. That's why it's important to have a quality one available and ready at all times. 
When soaked in cleaning agents, few messes can stand up to a wet mop, but only if it's ready for the challenge. 
With time and use, every wet mop will start to shrink, lose its effectiveness, and fall victim to microbe colonization. A vigilant eye will notice this happening before it becomes a problem. And a reliable facility rental service will do something about it. At Tipton, we'll monitor your mop heads and replace them before they lose their effectiveness. That's one less thing to worry about! 
With microfiber mops, you get the best of both dust and wet mops. A dry microfiber mop will hold dust and debris until shaken out. A wet microfiber mop will dig deep into a problem area and clean anything that shouldn't be there. Having one or two ready to go is never an ill-advised suggestion. 
Tipton is Your Leading Mop Supplier
Regardless of which mops you feel will best benefit your business, Tipton provides quality and reliability every time. To get started, call 1(800) 533-5670, visit
our website
, or
contact us here!